| | |
| --- | --- |
| Longitude | 27° 42' North |
| Latitude | 85° 12' East Local |
| Time | Nepal Standard Time is 5:45 hours ahead of Greenwich Mean Time |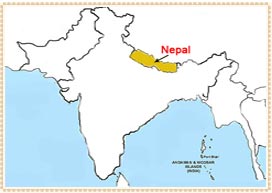 Nepal, officially Federal Democratic Republic of Nepal, is the world's youngest republic. Earlier, Nepal was a constitutional monarchy and it became a democratic republic on May 28, 2008. Locked within the rugged ranges of the Himalayas, Nepal is bounded by the Tibet region of China on the North and India on the South, East, and West. The Kingdom of Bhutan lies in its East whereas the Autonomous region of Tibet in Northeast. There are various entry points from the Indian side but the major ones are Nepal Gunj, Mahendra Nagar and Bir Gunj. From the Chinese side there are couple of passes to enter Nepal. Some of the major ones are Renjo La at 5465 meters, Cho La at 5420 meters and Kongma La at 5535 meters. There is only one entry to Tibet and Bhutan and that is Lungu La pass.
It was cut off from the rest of the world until the early 1950s. A palace revolution and the subsequent overthrow of the autocratic Rana dynasty marked the beginning of Nepal's emergence into the modern world. Kathmandu is the capital and the largest city.